Unity
Unity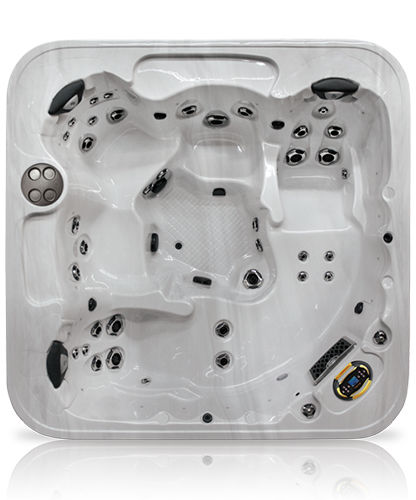 Hot Tub Specifications
Estimated Energy Consumption $7.74 (75°F / 24°C) | $17.19 (45°F / 7°C)*
| | |
| --- | --- |
| Seats | 5 Adults |
| Jets | 56 Jet Models Available |
| Dimensions | 234 x 234 x 101.5 cm |
| | 92 x 92 x 40" |
| Spa Volume | 1173 L | 310 US Gal |
| Dry Weight | 990 lbs | 449 kg |
| Filled Weight | 3578 lbs | 1623 kg |
| Pumps North America | 50 Jet Model - 2x 5HP | 56 Jet Model - 2x 7HP | 65 Jet Model - 3x 5HP |
| Pumps International | 50 Jet Model - 2x 3HP SF | 56 Jet Model - 2x 5HP SF | 65 Jet Model - 3x 5HP SF |
*Monthly Cost - Model average energy consumption cost. Calculated with current global energy costs and based on hot tubs with average filtration cycles, common daily usage and stock equipment. For general reference only. Spa Equipment, features, upgrades, environment and duration/frequency of use can alter the provided energy costs.
Customize With More Features
Your hot tub should be able to fit your lifestyle. The below customizations are available to add onto your hot tub.
For each option you can click on "details" and get information and photos on all available options.
Packages
Elite Value Package
- Perimeter LED Lighting
- O3 One Ozone Generator
- Crystal Clear Ozone Chamber
Spa Care Package
- UV Sterilizer
- O3 One Ozone
- Crystal Clear Chamber
- Refresh Switch
Audio Package
- MP3 Bluetooth Docking Station with Remote (incl two flushmount speakers)
- Subwoofer
Supreme Audio Package
- Handsfree Sony Bluetooth Stereo w Remote and Microphone
- Four Retractable Speakers
- Xtreme Subwoofer